On December 17th, 2020, the Missoula County Board of Health adopted new rules replicating directives created by former Governor Steve Bullock in his capacity as state excutive. The governor's directives including mask mandates and restrictions on businesses and individuals were challenged in court and dropped once Governor Greg Gianforte rescinded the state-wide rules.
The lawsuit against former Governor Steve Bullock and the Department of Public Health and Human Services was filed on December 8th, 2020, eleven days prior to the Missoula County Board of Health adopting the new rules.
The lawsuit was filed by Attorney Quentin M. Rhoades of Rhoades Siefert & Erickson LLPC on behalf of StandUpMt.org, and several other organizations and individuals.
Missoula City-County Board of Health COVID-19 Rules
b. Businesses, Government Offices and Other Indoor Spaces Open to the Public
A business government office or person/corporate entity responsible for an indoor space to the public shall:
i. Require employees, contractors, volunteers, customers, and visitors to wear a face covering within the building, and when entering and exiting, and within a shared vehicle, except as allowed in Section 6.
Missoula City-County Board of Health Rule. Comprehensive COVID-19 Mitigation Requirements. Adopted Dec 17 2020. Page 2.
Violates:
MT Constitution, Separation of Powers Clause, Article III, §1
MT Constitution, Right of Individual Privacy, Article II, § 10
ii. Require employees working in places of residence to wear a face covering when other people are present.
iii. Provide face coverings to employees and volunteers
iv. Provide accommodations for employees, contractors, customers, and visitors if required by State and federal disabilities laws, including the Americans with Disabilities Act (ADA which protects people with disabilities from discrimination in employment and requires employers to engage in the interactive process for accommodations.
v. Post clearly visible signs at entry points that state "Mask or face covering use required for ages five and older."
c. Outdoor Events and Gatherings.
i. Except when not required by section (d), organizers of outdoor events and gatherings of more than 25 people shall require all persons working, volunteering, and attending the event or gathering to wear face coverings.
Missoula City-County Board of Health Rule. Comprehensive COVID-19 Mitigation Requirements. Adopted Dec 17 2020. Page 3.
The Missoula City-County Board of Health is responsible for setting policy in Missoula County related to public health. Members are appointed by the Missoula City Council and the Missoula County Board of Commissioners. The Missoula County Board of Health is the body that has implemented the updated rules including mask mandates. Below are Board of Health members that are responsible for the updated rules and mask mandates.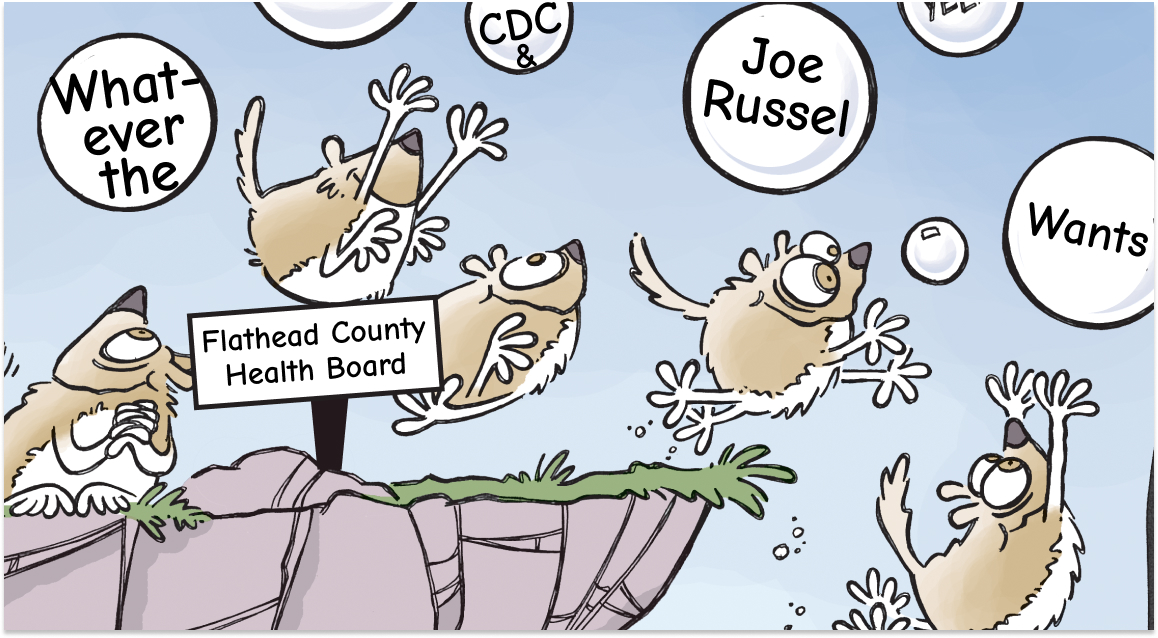 After 12 years as Flathead County Commissioner, Pam Holmquist is seeking re-election to yet another 6-year term to the Flathead Board of County Commissioners, which would make Holmquist's…
The lawsuit states that Missoula County is acting outside of its constitutional authority or "ultra vires and constitute violations of the Montana Constitution's separation of powers clause. Art. III, § 1, Mont. Const."
The lawsuit clarifies further,
Ex-Governor Bullock's Emergency Directive is expired
"The state of emergency declared by Governor Bullock on March 12, 2020, expired by operation of law on April 12, 2020, and neither the president of the United States nor the legislature has ever issued a declaration since such expiration stating any continuing conditions of the state of the original emergency. The Governor's emergency powers granted him under Title 10, Chapter 1-4, Montana Code Ann., therefore expired on April 12, 2020."
Stand Up Montana v. Gov Steve Bullock, DPPH. Dec 8 2020, pg 18.
Mask Mandate violates individual rights to Medical Privacy
"The Mask Mandate denies the right of individual privacy guaranteed by Art. II, § 10, Mont. Const. and Amend. IX, U.S. Const. Medical care choices are protected by the right of individual privacy. The right of privacy broadly guarantees individuals the right to make medical judgements affecting their bodily integrity and health free from the interference of government."
Stand Up Montana v. Gov Steve Bullock, DPPHS. Dec 8 2020, pg 27.
Mask Mandate violates Separation of Powers and Republic form of Government
"...the Mask Mandate and the November Directive violate the U.S. Constitution's guarantee of a republican form of government, Art. IV, § 4, U.S. Const., as they entail the performance of legislative functions by the executive branch of government without constitutionally sufficient legislative authority, delegation or guidance."
Stand Up Montana v. Gov Steve Bullock, DPPH., Dec 8 2020, pg 24.
Counties including Missoula "are ultra vires and constitute violations of the Montana Constitution's separation of powers clause. Art. III, § 1, Mont. Const."
Stand Up Montana v. Gov Steve Bullock, DPPH. Dec 8 2020, pg 4.
"The Mask Mandate compels uninfected and unexposed individuals to wear face masks in all businesses, government offices and other indoor spaces open to the public. The Mask Mandate requires private businesses and persons to enforce this rule through means of the law of trespass. If individuals who are not infected with a communicable disease, and not reasonably believed to be infected, choose to exercise their right to make their own private health-care choices by declining to use a face covering, they are barred from the use of indoor public accommodations."
Stand Up Montana v. Gov Steve Bullock, DPPHS. Dec 8 2020, pg 27.
The lawsuit also includes an affidavit from expert witness, Baylor Associate Professor of Statistics, Rodney X. Sturdivant, Ph.D., "In November 2020, I testified for the County Commissioners and Judge of Colorado, Texas concerning a declaration challenging restrictions imposed by the Texas Governor. I extensively reviewed the evidence and data regarding the relatively low mortality and morbidity risk that SARS-CoV-2 infection poses to most people, particularly the young and healthy, as well as the evidence about the health impacts of policies involving restrictions, and the overall effectiveness of restrictions."
His opinions include:
Contrary to Good Public Health Practice, Restrictions Do Not Address the Key Risk Metrics, and Assume that COVID-19 Is Equally Dangerous to All Populations.
"Although COVID-19 affects various age groups and health conditions very differently, government restrictions assume that the disease affects everyone equally. This, too, is not justified by the scientific literature and represents poor public health practice. By assuming the disease affects everyone equally in its criteria for reopening, the State is forcing unnecessary restrictions on a large segment of the population that will needlessly devastate the lives of millions."
Policies that Restrict and Remove Freedoms must be Supported by Appropriate and Correct Data.
"First, neither the new daily cases number nor percent positivity number represent random samples of the population, but rather represent results from selected populations who have been referred, or have self-referred, for testing. [...] The percent positivity number is thus a biased estimate of the actual transmission risk of COVID-19 in the population. Without population representative sampling for testing, the number does not reflect the risk of transmission and thus is scientifically unjustified as a criterion for imposing restrictions on normal activities."
Policies that Restrict and Remove Freedoms and Impact Overall Health and Well Being of Citizens must be Able to Demonstrate Potential for Significant Effectiveness Based on Science and Data.
"Data and science to support restrictions on freedom by the government, particularly those that deprive citizens of constitutionally guaranteed rights, should be extremely compelling. Epidemiological theory and best practices garnered over decades of research provide important guidance in handling the pandemic, and strongly advise against many of the measures currently used. Studies of the data on measures employed by states and countries around the world suggest that they do not significantly alter the course or outcomes of the pandemic."
Public Health Principles Consider All Health Implications of Policies Rather than a Single Outcome.
"As numerous peer reviewed publications have demonstrated, and as the former FDA Commissioner has admitted, the lockdowns themselves are depriving people of life. They are literally causing people to die, including by suicide.11 These deaths, sadly, are often in younger individuals representing far more life years lost than the median age of COVID-19 deaths."
Montana Hospital Bed Use & Capacity
"After 10 months of pandemic lockdown ... a growing number of scientists and public health policy experts are speaking up about the horrific impacts, correctly asserting the lockdown "cure" is worse than the disease." -@carriegeitner in @colopoliticshttps://t.co/YWHB7cDrib

— Martin Kulldorff (@MartinKulldorff) January 2, 2021
The #COVID19 panic merchants and fear pornographers really owe the Midwest an explanation as to how our numbers continue to go down. If human intervention is the only thing that can slow the spread, how did all 40 million people in these states decide to comply the same week? pic.twitter.com/EW5UNG2LYd

— Eric (@IAmTheActualET) December 29, 2020
In many places the use of face masks have been ineffective. Below, no masks or lockdown in S Dakota, whilst Montana had mask mandate & lockdown. pic.twitter.com/4cLt3Rl6JT

— Michael Jarrett (@mrjarrett100) January 2, 2021
Missoula City-County Health Department currently offers PCR tests for SARS-CoV-2, which can take 1-2 days to provide a result, long after a patient has left and potentially gone on to spread the virus.
The PCR tests are capable of amplifying even dead viral material to obtain a positive test result.  In a memorandum released on December 3, 2020, Florida Governor Ron DeSantis required all testing labs report their amplification cycle threshold on each PCR test,
In a New England Journal of Medicine Perspective Article published in November of last year, three physicians recommend health authorities devise a containment regimen strategy centered around rapid testing to identify positive clusters and individuals immediately.
KPAX reported in September of last year that the Missoula County was offering limited rapid testing at their clinic on Flynn Lane. The rapid testing has not expanded, according to Missoula County, "One barrier is supply chain shortages of test kits for specific systems."[link]
Rethinking Covid-19 Test Sensitivity — A Strategy for Containment
"By several criteria, the benchmark standard clinical polymerase-chain-reaction (PCR) test fails when used in a surveillance regimen. After collection, PCR samples typically require transport to a centralized lab staffed by experts, which drives up costs, drives down frequency, and can delay results by one or more days. The cost and effort required to get tested with a standard test mean that most people in the United States have never received one, and slow turnaround times mean that even when the current surveillance approach does identify infected people, they can still spread the infection for days before notification, which limits the impact of isolation and contact tracing."
...
"For an effective Covid filter that will stop this pandemic, we need tests that can enable regimens that will capture most infections while they are still infectious. These tests exist today in the form of rapid lateral-flow antigen tests."
STUDY:At 35 amplifications cycles less than 3% of cultures became positive.
"A major issue related to the outbreak has been to correlate viral RNA load obtained after reverse-transcription polymerase chain reaction (RT-PCR) and expressed as the cycle threshold (Ct) with contagiousness."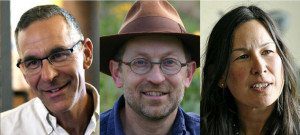 In an email signed by Missoula County Board of Health and County Commissioner Chair Josh Slotnick, he and county commissioners Dave Strohmaier and Juanita Vero admitted that the county and the health department do not have information about the cycle threshold values of positive SARS-CoV-2 tests results accepted and reported by their agencies. The cycle…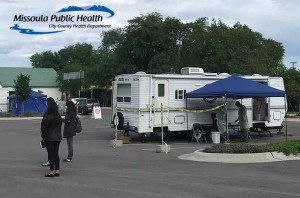 World Health Organization points to need for "careful interpretation of weak positive test results" day of Joe Biden inauguration.